Meta: Yes, Rose Bikes is well-known for its outstanding manufacturing, distinctive designs, and high performance.
This brand has a reputation in the cycling business for manufacturing high-quality bicycles that are both fast and strong. They are always concerned with craftsmanship and innovative designs. It offers various models to cater to different riding styles and preferences.
This brand has established a solid and unwavering reputation in the industry for producing reliable, top-tier bicycles that elevate the cycling experience for amateur and expert riders alike.
So, Are Rose Bikes Good? Let's find out:
Company History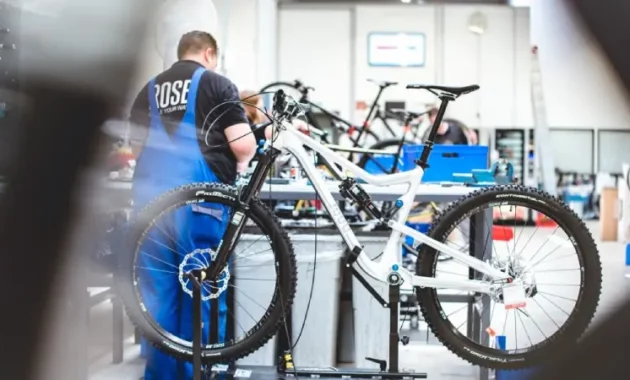 This brand started its journey in 1907 in German. Heinrich Rose founded this company as a small bike repair shop in Bocholt, Germany.
Over time, the company expanded its activities and entered the bicycle manufacturing business, gradually establishing itself as a reliable entity in the cycling sector.
Rose Bikes altered its focus in the early 1980s to make high-quality bicycles for various sports, including road cycling, mountain biking, and urban commuting.
The company combined traditional craftsmanship with innovative technologies, creating bikes that gained popularity among professional riders and enthusiasts.
This brand is still thriving as a major bicycle manufacturer, with a wide range of models tailored to fulfill the needs of many riding disciplines. They emphasize precision, quality, and performance, and their dedication to continual development and client satisfaction has established their market position.
What Kinds Of Bikes Make This Brand?
This brand provides several types of bikes. Now we explain every cycle in detail:
MTB bikes: This company produces various mountain bikes for different off-road terrains. Their mountain bikes range from cross-country to trail and enduro and can resist rough terrain while providing good handling and performance.
Road bikes: It has various road bikes for multiple uses, including endurance riding, racing, and gravel adventures. These bikes provide long-distance speed, efficiency, and enjoyment.
Gravel bikes: This company offers gravel bikes designed to tackle several terrains and provide versatility for adventurous riders.
Their gravel bike models are crafted explicitly for off-road exploration, mixed-surface riding, and long-distance adventures.
These bikes typically feature robust frames, wider tires for improved traction, stable geometry, and mounting points for carrying gear.
Fitness bikes: It provides a selection of fitness bikes for riders who want to keep active, improve their fitness, and enjoy recreational cycling.
These bikes are designed for efficient and pleasant riding on paved roads and light off-road tracks. Rose fitness bikes often have lightweight frames, sporty geometry for a more aggressive riding stance, and a blend of speed and stability.
Hybrid bikes: This brand offers a high-quality selection of hybrid bikes that flawlessly combine the most outstanding elements of road and mountain bikes, giving in an incredibly versatile and comfortable ride on any surface.
Meticulous development has gone into these hybrid bikes to excel on paved roads and light off-road tracks, making them ideal for travel, fitness riding, and leisurely adventure.
Rose hybrid bikes are built precisely with lightweight frames that allow for an upright riding position, significantly enhancing comfort, and larger tires that provide excellent stability and traction, ensuring an unsurpassed riding experience.
Touring bikes: This company offers touring bikes for long-distance travel and exploration. These bikes carry gear and provide comfort and stability during extended journeys.
Which Models Are Popular In This Brand?
Rose Pro SL: It's a famous road bike model known for its lightweight frame, aerodynamic design, and performance-oriented components. Road cycling enthusiasts and racers often favor it as they look for a high-performance ride.
Rose Back Road: This well-liked gravel bike blends functionality and comfort. Its rigid frame, bigger tires, and relaxed shape make it ideal for off-road and long-distance exploration.
X-Lite Rose: It's a popular choice among road riders looking for speed and comfort. It is a popular choice for endurance rides and races due to its lightweight carbon frame, aerodynamic characteristics, and quick handling.
What Are The Advantages Of This Brand Of Bikes?
Quality Craftsmanship: This company was known for its excellent craftsmanship. We carefully engineer and build every bike, providing durability, dependability, and lifespan. The brand's dedication to quality means users can enjoy their motorcycles for many years.
Versatility: This brand has multiple versions for various riding styles and terrains. Whether you enjoy road cycling, mountain biking, gravel riding, or commuting, this brand has solutions.
Their bikes are adaptable and can manage a variety of riding circumstances, allowing users to try out new cycling experiences.
Performance-Oriented Design: This company prioritizes performance in its designs. They incorporate innovative technologies and features that enhance the bike's performance and overall riding experience.
Rose aims for outstanding performance and efficiency, with lightweight frames and responsive handling.
What Are The Disadvantages Of This Brand Of Bike?
Limited Availability: It may have limited availability in certain regions or countries outside of its primary market in Germany. It can make it challenging for riders in certain areas to access their bikes or try them out before purchasing.
Limited Customization Options: This brand may have more limited customization options than other brands. Riders who prefer extensive customization of components, colors, or frame materials may be restricted.
Price Range: It generally positions itself in the mid-to-high price range. While they offer quality bikes with performance features, this pricing may be less accessible for budget-conscious or entry-level riders seeking more affordable options.
Is Rose Bikes Worth It?
Yes, It is worth considering for riders seeking high-quality, versatile bicycles. With their commitment to craftsmanship, performance-oriented designs, and diverse range of models, this brand offers excellent value for the features and performance they provide.
Final Words
Finally, this brand is known for making outstanding biking gear for a broad range of cyclists. They go above and above to satisfy their clients by offering high-quality products and exceptional performance, distinguishing themselves from other bicycle brands.
Whatever your riding requirements are, whether it's price, dependability, or variety, this brand has you covered, and it will undoubtedly improve your cycling experience. As a result, It Bikes is a perfect option for any rider. Have a great ride!