Kent bikes are a combination of reliability, performance, and affordability. This brand is always concerned with its product quality. This brand of bicycles prides itself on producing a wide range of bikes to cater to various riding styles and preferences.
It has something for everyone, from mountain and road bikes to hybrid and cruiser versions. This brand has established itself as a recognized name in the bicycle industry with a long history spanning several decades.
So, Are Kent Bikes Good? Let's find out:
History Of Kent Bikes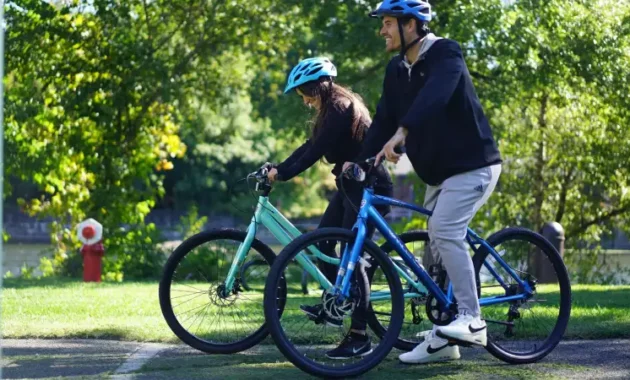 Kent is the oldest cycle brand in the United States. This company was started in the 1900s by the Hale brothers, Arnold, and Lewis Hale, in the small town of Kent, Ohio. At first, this company started as a Manufacturing Company, manufacturing small parts for the automotive and aerospace industries.
In the 1950s, Kent shifted its focus to bicycles and began producing its line of bicycles under the brand name "Kent." The company quickly gained recognition for producing affordable and reliable bikes, capturing the attention of cycling enthusiasts nationwide.
Day by day, they introduced various models, including mountain, road, cruisers, and hybrid bikes, to cater to different riding preferences. This brand has committed to quality and affordability, making its bikes accessible to many consumers.
The brand has consistently incorporated new technologies and innovations into its designs, ensuring its bicycles Keep up with the cycling industry's changing requirements and trends.
This brand has also partnered with well-known licensed brands and characters, such as Jeep, Shimmer and Shine, and Marvel, to create themed bikes that appeal to children and fans of these franchises. These collaborations have further expanded Kent's reach and popularity among various demographics.
Today, this company thrives as a trusted name in the cycling community. Their bikes are available in major retail stores and online platforms, making them easily accessible to customers nationwide.
Which Types Of Bikes Make This Company?
There are several types of bikes made by this brand, such as:
Cruiser: This brand produces cruiser bikes that prioritize comfort and style. These bikes are characterized by their relaxed riding position, wide handlebars, and comfortable saddles. Cruiser bikes are ideal for leisurely rides along beachfront or city streets.
Comfort: This brand of Comfort Bikes are versatile options for various riding conditions, including leisurely rides, commuting, and bike path adventures. They are ideal for riders who prioritize comfort, ease of use, and a more relaxed approach to cycling.
Hybrid: This brand manufactures hybrid bikes that combine the features of both road bikes and mountain bikes. These versatile bikes suit commuting, fitness rides, and light off-road trails. They typically feature a more upright riding position and wider tires for added comfort and stability.
Mountain: This brand produces mountain bikes for off-road adventures and trail riding. These bikes typically have sturdy frames, suspension systems, and knobby tires to handle rugged terrains.
Road: This brand offers a selection of road bikes designed for riders who seek speed, efficiency, and performance on paved surfaces. It is carefully constructed to provide an amazing riding experience.
Gravel: It offers a selection of gravel bikes designed for riders who seek adventure on mixed terrains, including gravel roads, dirt paths, and rough surfaces. These bikes are built to handle various riding conditions and offer versatility for exploring both on and off the beaten path.
Electric: It offers a range of electric bikes, also known as e-bikes, designed to provide assisted pedaling and an enhanced riding experience. These electric bikes from Kent combine the convenience of a traditional bicycle with an electric motor's added power and efficiency.
BMX/Freestyle: This brand offers a variety of BMX and freestyle bikes designed for riders who enjoy performing tricks, jumps, and other stunts. These bikes are built to withstand the demands of aggressive riding and provide the necessary features for freestyle enthusiasts.
Kids: It offers a range of kids' bikes designed to provide young riders with a fun and safe riding experience. These bikes are designed to meet children's needs, featuring appropriate sizing, durability, and safety features.
Which Bikes Are Popular With This Brand Of Bikes?
Kent Thruster KZ2600: This bike has gained popularity for its durability and performance on off-road trails. It features a sturdy frame, front suspension, and reliable components.
Kent Northwoods Springdale: This hybrid bike is known for its versatility and comfortable riding experience. It's popular among commuters and leisure riders, offering road and off-road capabilities.
Kent Step-Through E-Bike: Kent's step-through e-bike model has gained popularity among commuters and riders seeking an assisted pedaling experience. It combines convenience, comfort, and electric assistance for a smooth and efficient ride.
Kent BMX/Freestyle: This company offers a range of BMX and freestyle bikes popular among riders who enjoy tricks and jumps. These bikes are well known for their durability and suitability for aggressive riding.
What Are The Advantages Of This Brand Of Bikes?
Kent Bicycles offers several advantages that make their bikes appealing to riders:
Affordable Price: One of the key advantages of this bicycle brand is its affordability. They provide budget-friendly options, making cycling more accessible to a wider range of riders.
Diverse Range of Bikes: This brand offers a diverse lineup of bikes, catering to various riding styles and preferences. Whether you're looking for mountain, road, BMX, or specialty bikes, It provides options for different needs and interests.
Durability and Reliability: Kent Bicycles are built with durability in mind. Their frames and components are designed to withstand the rigors of everyday riding, ensuring longevity and reliability.
Wide Availability: This company is widely available through various online and offline retailers. This accessibility makes it easier for riders to find and purchase their desired Kent bike.
Suitable for Different Skill Levels: This brand offers beginners, intermediate riders, and advanced cyclists bikes. Whether you're thinking or considering upgrading your current bike, it provides options catering to different skill levels.
What Are The Disadvantages Of This Brand Of Bike?
Limited Advanced Features: This company's bikes generally focus on providing basic features and functionality at an affordable price. As a result, they may need more advanced features and high-end components found in more expensive brands.
Entry-Level Components: It often comes equipped with entry-level components to maintain affordability. While these components may be suitable for casual riding, they may offer a different level of performance or durability than higher-end alternatives.
Availability of Spare Parts: Due to the unique specifications and components used in some Kent bike models, finding compatible spare parts or aftermarket upgrades might be more challenging than popular mainstream brands.
What Is The Price Range Of This Brand Of Bike?
The starting price of this brand bike is $70, and the Highest is $ 1500 or more. It's important to note that these price ranges are approximate and may differ depending on location, retailer pricing, promotions, and model availability.
Is It Worth It?
Yes, for budget-conscious riders or those looking for affordable options, Kent bikes can be worth considering.
Final Words
In conclusion, Kent Bicycles offers a range of bikes that cater to various riding styles and budgets. While they may have some limitations regarding advanced features or high-end components, they provide affordable options for those seeking reliable and budget-friendly bikes.
It's important to carefully evaluate your needs, preferences, and intended use before purchasing. Additionally, researching specific models, reading customer reviews, and seeking expert advice can help you find the right Kent bike that meets your requirements. Happy riding!