This company has a solid reputation in the cycling industry for producing high-quality bicycles in various disciplines. It offers multiple models for riding styles. This company focuses on innovation and advanced technology. 
They aim to deliver a superior riding experience. Their attention to detail and commitment to quality have contributed to their positive reputation among cyclists worldwide.
So, Are Scott Bikes Good? Let's find out:
Brand History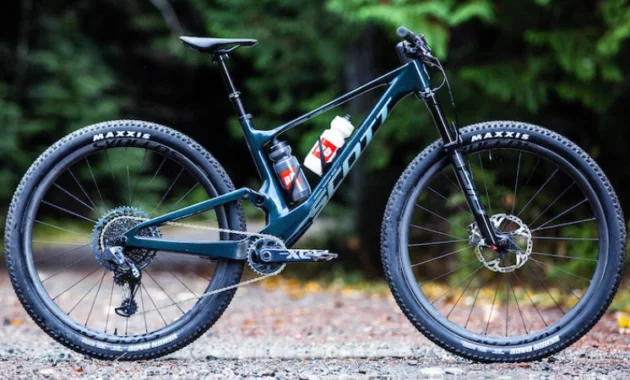 Scott was the founder of this company in 1958s. He is an engineer and ski racer from Sun Valley, Idaho, USA. Scott focused on manufacturing ski poles using aluminum, a novel approach at the time.
It expanded its product line to include cycling goods in the late 1980s. This brand saw the mountain biking opportunity and started manufacturing high-quality mountain bikes. They produced its initial mountain bike, the Endorphin, in 1989, featuring a suspension fork, and soon garnered popularity among cyclists.
This brand became synonymous with innovation, constantly pushing boundaries and introducing new technologies.
In 1991, they introduced the Unishock suspension system, a revolutionary design that integrated the shock absorber into the bicycle frame. This innovation helped improve the performance and handling of their mountain bikes.
Significant advancements in carbon fiber frame construction made it one of the early pioneers in utilizing this lightweight and durable material. In 1995, they launched the Endorphin Carbon, one of the first mountain bikes with a carbon fiber frame.
The company introduced the CR1 road bike in 2003, designed for comfort and performance during long rides. Scott road bikes gained recognition in the professional cycling world, with teams like Team Columbia-HTC achieving numerous victories aboard Scott bikes.
It continued to introduce innovative technologies across its product range. They developed the TwinLoc Suspension System, which allowed riders to control suspension settings on the fly, enhancing efficiency and adaptability on various terrains.
It also pioneered aerodynamic technologies in its road bikes, introducing features like the Foil's aerodynamic frame design. Over the years, this brand expanded its global presence, establishing subsidiaries and partnerships worldwide.
Today, Scott Bikes remains at the forefront of the cycling industry, committed to pushing boundaries, developing innovative products, and supporting professional and amateur riders alike. Their focus on technology, performance, and quality has achieved them a reputation as a leading brand in the cycling world.
What Types Of This Brand Of Bikes?
This brand offers a wide range of bicycles across various disciplines. Here we explain these types:
Mountain Bikes: It produces mountain bikes for different terrain and riding styles. It includes cross-country (XC), trail, enduro, and downhill bikes. They incorporate advanced suspension systems and durable frames for optimal off-road performance.
Road Bikes: This brand manufactures road bikes for different purposes, including racing, endurance, and gravel riding. They offer aerodynamic models, lightweight climbing bikes, and versatile endurance options.
Gravel Bikes: This brand of gravel bikes customize for adventure and exploration on unpaved roads and trails. They feature wider tires and more relaxed geometry, often with mounts for carrying accessories.
City / Hybrid Bikes: It offers hybrid and city bikes for urban commuting, fitness riding, and leisure cycling. These bikes are built for urban situations to provide convenience, effectiveness, and flexibility.
Women's Bikes: It has various women's bikes built to meet the demands and preferences of female riders. These bikes come with frame shape, component selection, and ergonomic features for a suitable and efficient riding adventure.
.
Kids Bikes: This brand provides various bicycles for children of all ages and skill levels. These bikes introduce young riders to cycling safely and enjoyably.
Electric Bikes: It has several types of electric bikes which provide a pedal-assist boost to reliable your riding journey. And this brand sells many kinds of electric bikes for several purposes like commuting, mountain biking, and touring.
Which Bikes Are Most Popular In This Brand?
Many bikes are popular in this brand. Here we suggested a few models:
Scott Addict: A highly regarded road bike known for its lightweight design, stiffness, and excellent handling characteristics.
Scott Spark: A versatile and popular full-suspension mountain bike renowned for its efficient climbing abilities and capable trail performance.
Scott Scale: It is a well-known hardtail mountain bike favored by cross-country riders for its lightweight, agility, and responsiveness.
The Positive Factor Of This Brand Of Bikes?
Innovation and Technology: It is known for its continuous innovation and incorporation of advanced technology in its bike designs. They push diligently to maintain a position at the forefront of cycling advancements in aerodynamics, frame components, or suspension components.
Quality and Durability: This company is famous for its high-quality build and long-lasting performance. They always use the best quality materials and strict quality control methods to ensure their bikes can endure the demands of various riding disciplines and situations.
Performance and Handling: Its manufacturer delivers excellent performance and handling characteristics. Whether you're riding on the road or tackling off-road trails, their bikes are responsive, efficient, and pleasurable to ride.
The Negative Factor Of This Brand Of Bikes?
Price: Scott Bikes are premium products, which can result in higher price points than other bike brands. It might make them less accessible to cyclists on a tight budget.
Availability: Depending on the region, the availability of Scott Bikes may vary, and specific models may be limited in stock or distribution. It could limit the options for potential buyers in certain areas.
Limited Customization: Some cyclists prefer many customization options for their bikes, such as choosing specific components or frame colors. Scott Bikes may have more limited customization options compared to certain other brands.
Price Range
This brand offers a variety of bikes. Their starting price is approximately $500 to over $10,000, depending on the model, components, and customization options.
Is Scott Bikes Worth It?
These brand bikes are worth it due to their high-quality construction, innovative technology, and performance. Whether a Scott Bike is worth it depends on your needs, preferences, and budget.
Final Words
Finally, One thing is clear: this brand is always concerned about its product quality and performance. That is the reason this brand gained a high reputation. While the price range can be higher than some other brands, many cyclists find that their superior craftsmanship and riding experience justifies the investment in a Scott Bike. 
Considering all these, these brand bikes are best and suitable for any cyclist. So, Enjoy your ride with the best bikes.